Blundeston Prison opens £150,000 drug unit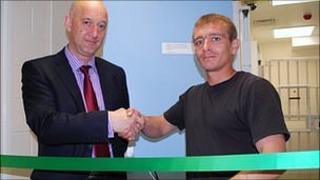 A £150,000 unit for inmates who are addicted to drugs has opened at a prison on the Norfolk-Suffolk border.
The facility at Blundeston Prison, near Great Yarmouth, will give more privacy to people recovering from substance abuse.
A large dispensary, staff office, group rooms, private interview rooms and waiting areas have been created.
The original dispensary became too small to deal with demand and offenders had to take prescriptions in corridors.
The unit will provide prisoners with medication like methadone as an alternative to street drugs and support prisoners as they stop all drug use.
Phil Love, prison health care manager for NHS Great Yarmouth and Waveney Community Services, said: "Our ultimate aim is to make help, support and treatment as easy as possible to access so that clients who do have issues with drugs when they come to Blundeston have achieved total abstinence by the time they leave."
Blundeston prisoner Jeff Hirst, who cut the ribbon to open the unit, has been successfully treated by the service and believes more people will benefit from the help on offer.
He said: "I believe that now this new IDTS (Integrated Drug Treatment System) unit is open, things will only get better because more people will get a chance to come off their scripts."