Rare bee unreported for 60 years spotted in Sheringham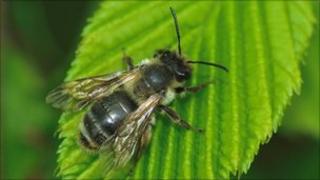 A species of bee not seen in Norfolk for more than 60 years has been reported at Sheringham Park.
The Andrena varians is a member of the mining bee genus and can be identified by its small size and slim appearance.
A nationally scare species, the bees live solitary lives in a burrow and are good pollinators.
Rob Coleman from the National Trust said: "Hopefully discoveries of this nature will encourage more people to get out there and look at bees."
Mr Coleman believes the flower-rich habitat at Sheringham Park may have contributed to the re-emergence of the bee.
"Over the last few years, urban development and more intensive food production have led to the destruction of most of this habitat in the UK.
"Sheringham Park has changed little since Victorian times and maintains its flower-rich parkland.
"In addition, the Rhododendron garden established by the Upcher family produces a wealth of blooms during May and June which bees love."