Wheelchair tennis player Alfie aims for 2016 Paralympics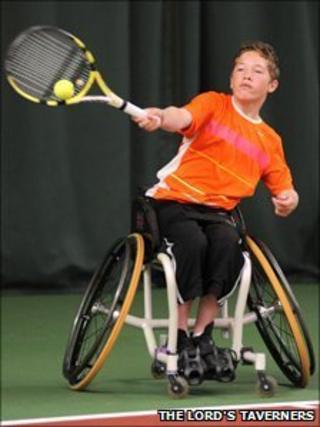 A 13-year-old wheelchair tennis player from Cantley in east Norfolk is hoping to raise funds to allow him to compete in the 2016 Paralympics in Brazil.
Alfie Hewett has been in a wheelchair from the age of 7 after being diagnosed with Perthes' disease which causes softening of the hip bone.
Ranked 14th in the world in his age group, he needs funding for training.
He receives SportsAid money but is ineligible for a Talented Athlete Scholarship Scheme until he turns 16.
Alfie said: "When I was six I got diagnosed with a hip problem where the hip crumbled away and lost all its circulation. At the time we thought it was growing pains so I carried on as normal.
"Then when I was turning seven I had serious problems and I couldn't walk and one day I collapsed on the football pitch and I was rushed to hospital.
"I had a couple of x-rays and I came out in a wheelchair."
Recognition
After leaving hospital Alfie started playing tennis in order to keep active, which led to him attending training camps in Nottingham.
His ability on the court has led to recognition in the press and from other professionals.
"I'm starting to get into papers and even top players in the world have come up to me and said, 'You're going to be a great star,' so I'm looking forward to what's going to happen in the future."
After missing out on the chance to represent Great Britain in the 2012 Paralympics, he is now intent on making the 2016 event.
"In two years I'll hopefully be one of wheelchair tennis' top players."