Norfolk Broads boat hire firm gets Green Mark award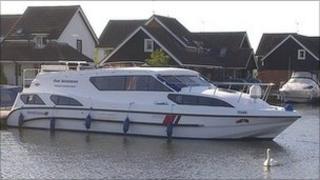 A Broads boat hire firm has become the first in the country to be granted a Green Mark for its environmentally-friendly fleet.
Wroxham-based Norfolk Broads Direct clinched the Green Tourism Business Scheme award for their boats' eco-friendly design and waste management.
Green processes include the water on some of its cruisers being heated as a byproduct of the engine cooling.
Barbara Greasley from the company said: "We're honoured to be the first."
"For some time a group of environmentally-aware people in Norfolk has been campaigning for a greener option for boating," she added.
Boating on the Broads generates around £95m every year, accounting to nearly 25% of the tourism spend in the wetland.
The activity's environmental impact has been a hot topic in recent years and organisations including the Broads Authority welcome the efforts being made to keep boating green.
"Sustainability is of great importance to the Broads and it is our aim to be seen as green leaders in the tourism industry," said Bruce Hanson from the Broads Authority.
"This Green Mark will allow us to highlight our environmental credentials to the marketplace," he added.