Peregrine falcon egg in Norwich contained dead chick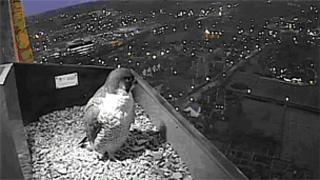 Hopes that an egg laid by peregrine falcons on Norwich cathedral would hatch have been dashed after an underdeveloped dead chick was observed.
The nesting platform was installed by the Hawk and Owl Trust and the female laid an egg on Easter Sunday.
Nigel Middleton from the trust said: "It's such a shame, all the effort they've put in and we've got a dead chick unfortunately."
It is unknown why the chick did not develop fully.
On Sunday night the female bird was observed removing the body.
The Hawk and Owl Trust said there were several possible reasons why the egg failed including it being too cold and the mother being too immature.
Despite the outcome Mr Middleton said the public response to the birds had been phenomenal and he hoped for more success next year.
"We set up a viewing station for the last three weeks expecting the egg to hatch and we've had nearly 4,000 people looking through the telescopes.
"Next year I hope I can present them with some babies so they'll be able to see some young peregrines around the cathedral spire."