Britain's Got Talent: Ronan Parke wants singing career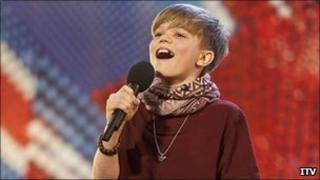 Britain's Got Talent runner-up Ronan Parke hopes to continue his singing career despite losing out to Jai McDowall in the final.
The 12-year-old from Poringland, Norwich, was favourite to win but polled 26.7% of the public vote to Jai's 29.1%.
Ronan said: "Susan Boyle and JLS came second and they've made a big career out of this and hopefully I can too."
He is now preparing to take part in the Britain's Got Talent live tour.
Speaking to BBC Radio Norfolk, Ronan admitted all the public attention had been overwhelming, but the support of his family and friends helped him cope.
"It's really weird to see myself on the front page of the newspapers but it is a great experience.
"They've [family and friends] all been really proud and really supportive and they've believed in me 100%."
Before the live final, Ronan's family and the show's production company strongly denied allegations that the show had been rigged to allow him to win.
Speaking of the winner, Ronan said: "Jai was an amazing winner, he's a lovely guy and he deserved to win.
"I was a little bit disappointed but I'm so happy for him."