Norwich on Olympic torch relay route before 2012 Games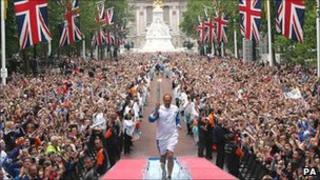 The Olympic torch relay is to pass through Norfolk as it makes its way around the UK ahead of the 2012 Games.
The relay will begin at Land's End and travel around the UK before arriving in Norwich for an evening event on 4 July.
The torch will then continue on to London for the start of the Olympic games on 27 July.
"This is a once in a lifetime opportunity to put Norwich on the global map," said new city council leader Brenda Arthur.
Torch bearers
"It's such an exciting event for the city to host and I'm really looking forward to getting as many communities involved in the run up to it," she added.
A nomination process will be used to pick the 8,000 torch bearers who will carry the Olympic flame around Britain.
London 2012 chiefs say the aim is for the torch to visit different communities and cultures ahead of the Games.
It will also be used to showcase Britain's towns, areas of outstanding natural beauty ands sporting and cultural landmarks.
Sebastian Coe, chairman of the London 2012 organising committee, said: "The Olympic flame will showcase the very best of who we are and where we live."
He added: "We will be working closely with villages, towns and cities the length and breadth of the UK to ensure that as each community welcomes the Olympic flame they do so in a way that is unique and special to their area."
Beijing Olympics
About 95% of people will be within an hour's journey of seeing the torch, which will travel for about 12 hours each day.
The 2008 torch relay ahead of the Beijing Olympics was overshadowed by protests as it made its way around the world.
The London leg was hit by several incidents and criticism over China's "torch police" security staff.
Consequently the International Olympic Committee decided that international torch relays would be scrapped.