Norwich Cathedral used in Jack the Giant Killer movie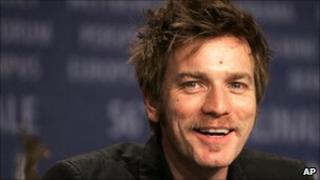 Norwich Cathedral is to be used in the filming of a movie featuring Ewan McGregor and Bill Nighy.
The 12th-Century landmark will be transformed into a fairytale castle for the Hollywood remake of Jack the Giant Killer, set for release in June 2012.
Recording in the cathedral begins on Monday and will run for a week.
"It's certainly captured our imagination," said Mark Lusher from Norwich-based WS Lusher and Son, which is constructing part of the set.
The film's plot - a reworking of Jack and the Beanstalk - follows a farm boy in his quest to rescue a princess from a land of giants.
Other actors involved in the Warner Brothers production include Ian McShane, Nicholas Hoult and Stanley Tucci.
Nicholas Cage is rumoured to be taking part.
It is not yet known which actors will be filming in Norwich.
The crew has previously filmed scenes in Wells Cathedral, Somerset, and the Forest of Dean.
Norwich Cathedral will remain open for worship during the week of recording.