Norwich Castle curators race to pick new artwork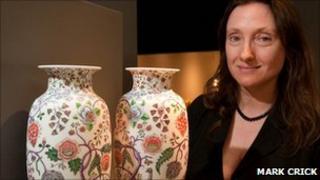 A pair of £8,800 vases are to go on public display in Norfolk after art curators competed in a race to find new objects for their collections.
Norwich Castle Museum and Art Gallery won a share of £75,000 in a national competition to buy new artwork.
Curators Dr Francesca Vanke and Dr Andrew Moore had an hour to pick an object at an international art fair at London's Saatchi Gallery on Thursday.
The pair then had to justify their choice to a panel of judges.
Norwich Castle Museum and Art Gallery is one of eight institutions to boost its contemporary collections due to the Art Fund Collect scheme, which is run by the Art Fund and Crafts Council.
Dr Vanke, who helped to pick the ceramic vases by Australian artist Robin Best, said she was pleased Norwich Museum was one of the institutions to make it through to the competition out of 18 entrants.
"It is a tremendous privilege to have been selected, and I have enjoyed the process of discovery, of learning about the makers in more depth, thinking imaginatively about their work, and how they might enhance our collections," she said.