The Reverend Norman Banks appointed as 'flying bishop'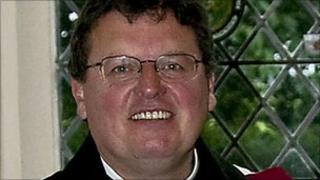 A Norfolk vicar has been appointed as a 'flying bishop' by the Archbishop of Canterbury.
The Reverend Norman Banks, who is the vicar of Walsingham, Houghton St Giles and the Barshams, will become the Bishop of Richborough.
He will be officially consecrated at Southwark Cathedral on 16 June.
As a flying bishop he will help provide pastoral care and advice to traditional clergy opposed to the ordination of women as priests.
Mr Banks, 57, has been the vicar at St Mary's Church in Walsingham since 2000 and a chaplain to the Queen since 2009.
He said he has enjoyed getting to know so many people who make pilgrimages to the north Norfolk village but sees his new position as a pivotal role.
"From the many recent conversations I have had, I believe there is real desire across the Church of England to find a way for us to hold together with integrity and generosity," he said.
He has been appointed as a flying bishop alongside Rev Jonathan Baker from Oxford, who will be the next Bishop of Ebbsfleet.
The Archbishop of Canterbury said the pair were taking on challenging roles.
"They are taking up a very demanding pastoral ministry at a time of much upheaval and uncertainty, and will need our prayers and friendship as we work in the Church of England for a future in which there is full mutual respect and constructive work in mission to be undertaken together," said Dr Rowan Williams.