Britain's Got Talent: Norfolk's Ronan Parke a favourite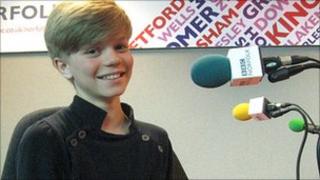 Norfolk schoolboy Ronan Parke has become an early favourite to win ITV's Britain's Got Talent after his performance on Saturday night.
The 12-year-old from Norwich earned a standing ovation and a place in the next round thanks to his rendition of Feeling Good by Nina Simone.
"Everyone was quiet at the start and then when they got up I thought that I must have been doing well," said Ronan.
All three celebrity judges voted to keep him in the competition.
After a cautious start to the song, the Framingham Earl High School pupil soon had the studio audience on their feet cheering for him.
Before he had even finished, judges Amanda Holden, Michael McIntyre and Louis Walsh had also stood up to applaud.
"I'm predicting really big things for you. You're so good, this kid is going to be a star," said Walsh.
Despite knowing he was through to the next round, Ronan had to keep quiet until his audition was broadcast on Saturday.
"It was really strange, it didn't seem like me. I looked different."
'Tiny little boy'
If it was not too stressful for Ronan, who lives with his family in Poringland, it certainly was for his mother Maggie.
She watched from the side of the stage during her son's performance.
"I'm a bit of a worrier anyway, especially about the children, and I really felt for him because I thought I could never do something like that," she said.
"To walk out in front of all those people as a tiny little boy - I was really worried for him."
While some bookmakers have given Ronan odds of 5-2 to win the competition, he is modest about his chances.
"I've not thought about winning the show because it's such a big goal," he said.
"Obviously I'd love to win it but you've just got to think there's so much talent and you really don't know what's going to happen."