Royal wedding: Humphrey presents from Lancaster bomber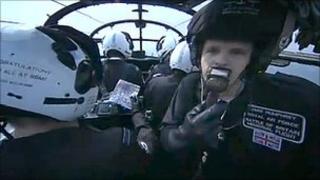 BBC Formula 1 presenter Jake Humphrey has been broadcasting on the royal wedding from a World War II plane.
The 32-year-old briefly hosted royal wedding coverage from a 66-year-old Lancaster aeroplane before the live transmission link was lost.
Mr Humphrey, who grew up in Norwich, has anchored F1 broadcasts since 2009.
"I said I'll do anything for the royal wedding, so when they said I'll be in a Lancaster flying over the Mall, it is incredible," said Mr Humphrey.
The RAF Lancaster bomber is one of just two still in operation and will join a Spitfire and a Hurricane for the flypast, piloted by the Battle of Britain Memorial Flight.
Ahead of take-off the presenter said the aim of the bird's eye view broadcast was ambitious and there was little preparation he could do other than get fitted for his flight suit and helmet.
"As always with these things the aim is to try to find new ways to bring the public and viewers at home as close to what's going on as possible," he said.
"So for the first time ever we're doing live presentation from inside one of the planes that will be doing the royal flypast when the newly married couple come out onto the balcony."
He also admitted that the attempt to broadcast live from a WWII aircraft, equipped with four TV cameras, had limitations.
"There are really big challenges with this," said Mr Humphrey, who attended Framingham Earl and Hewett high schools.
"The first is moving inside a Lancaster because you might think they're huge great big bombers that used to fly in the war, but actually they were built as operational aircraft so there's very little room to move around and we've got seven or eight - maybe 10 - people in the plane with us."
The broadcaster, who began his career at Norwich-based Anglia TV, said it was an honour to be involved with the BBC's live coverage of the regal event although he was nervous.
"It's the kind of thing I'll tell my grandchildren," he said.