Walsingham milestone marked at Westminster Cathedral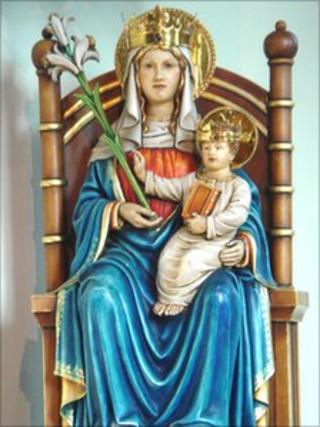 A mass at Westminster Cathedral on Saturday will mark the 950th anniversary of a holy site in Norfolk.
The national shrine of Our Lady of Walsingham celebrates its landmark year this year, as it was founded in 1061.
Many Christians from Norfolk are expected to attend the service, which will be led by Archbishop Vincent Nichols at 1400 GMT.
Other guests will include the new Papal Nuncio Archbishop Mennini and Cardinal Cormac Murphy-O'Connor.
The village in north Norfolk is seen as one of the most important pilgrimage sites for Christians in the UK.
Each year it attracts about 100,000 pilgrims.
The original Roman Catholic shrine and statue of Our Lady were destroyed after the Reformation in 1538, but Walsingham became a pilgrim destination again after a former Slipper Chapel was restored in 1897.
The Anglican Church also has its own shrine of Our Lady of Walsingham in the village.