Olly Murs music video for Busy stars Norfolk actress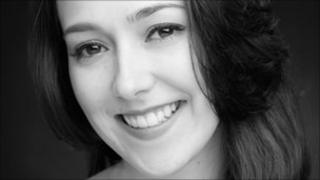 A former Norwich City College student has landed the lead role in Olly Murs' new music video.
Patricia Duarte, who is originally from Sao Paulo in Brazil, was cast as a doll that comes to life in the video for his latest song Busy.
"I applied to be an extra but they chose me for a bigger part," said Miss Duarte.
Olly Murs starts his UK tour on 29 April, which includes a trip to Carrow Road in Norwich on 11 June.
'Bigger things'
"I started acting when I was five, back in Brazil, then my first production in English was at Sewell Barn theatre in Norwich," said Miss Duarte, 23.
After moving to the UK from Brazil at the age of 15, she went to school at Heartsease High School before enrolling in a BTEC National Diploma Performing Arts course at City College Norwich.
"Norwich was very welcoming but quite limiting due to the size," she said. "I moved on to bigger things in London because it had more opportunities."
Miss Duarte says her next plan is to audition for and attend drama school in 2012.