Low number of Norfolk royal wedding street party plans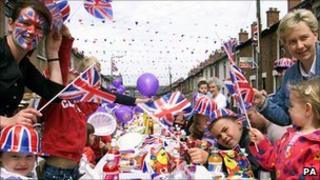 Norfolk County Council has received just eight applications to close roads for street parties to celebrate the royal wedding.
Prince William and Kate Middleton will marry on 29 April and council officials are blaming the time of year for the low number.
"Perhaps April has kept people more indoors rather than outside," said highways network manager Tim Edmunds.
"I don't think eight applications reflects the amount of events."
"I think many people at the moment are still planning to hold events in village halls or on village greens without having to actually close the road," Mr Edmunds added.
The cost of submitting an application in Norfolk was cut at the start of the year from £450 to £29.04 to encourage people to mark the wedding date.
'Excuse for fun'
The authority has reduced the price by grouping events together to spread advertising and legal costs.
The closing date for applications is 31 March and anyone who is planning to hold a street party on a road must request permission.
"Our interest is not only to make sure that the event takes place safely but also that those who need to use a road are able to do so," said Mr Edmunds.
One place intending to hold a string of celebrations including a street party is Hunstanton, where the town council has set up a royal wedding committee.
"We thought we'd put on as much as we could and showcase the town," said committee chairman Carol Bower.
Events will include a party along the main street, children's activities in the town hall, concerts, dancing, singing and power kiting.
"Even if you're not a supporter of the Royal Family it's a wonderful excuse for fun and getting the community together," said councillor Bower.