Giant tiger fish served up at tandoori in Norfolk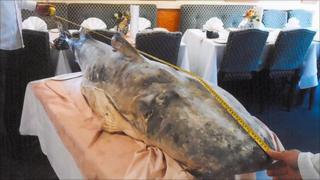 A 10-stone tiger fish from Bangladesh has been flown 5,000 miles to be served at a restaurant in rural Norfolk.
Staff at Diss Tandoori decided to buy the gigantic fish after spotting a picture of one in a Bangladeshi newspaper.
It will be cooked during a special banquet evening for about 100 diners.
"You can get a small one, but it's very hard to get one this size," said tandoori manager Sujan Khan.
It took about four months for the curry house to track down the 5ft 7in (1.7m) tiger fish and fly it to England.
The frozen delicacy was then picked up by six people and driven in a seven-seater 4x4 to Diss in south Norfolk.
It is being stored until the banquet night in a giant freezer in Norwich.
Cutting and preparing the fish will take about five hours.
Fish this size are caught in Bangladesh only once in every five years.