Rod Stewart on new fatherhood and Carrow Road gig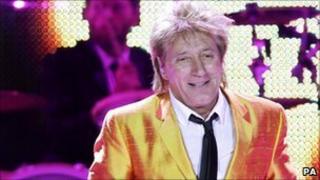 Rod Stewart has revealed he has escaped to a separate bedroom following the arrival of his son Aiden.
The father-of-eight said wife Penny has told him to sleep in another room a few times as their three-week-old baby is waking up every two hours.
The 66-year-old spoke about being a new dad again to BBC Radio Norfolk ahead of his stadium gig in Norwich on 8 June and he was full of praise for his wife.
"I take my hats off to mothers, they're absolutely spectacular," said Rod.
"The crying, oh man, I was trying to watch the football last night and I had to look after him for 10 minutes when the Arsenal game was on and it was driving me up the wall."
The pop star said his wife was only getting a few hours' sleep each night as he isn't a natural with newborns.
"They're too little for me to change nappies - I'm all arms and thumbs but when they get a bit older I don't mind changing nappies," he said.
Despite the sleep deprivation, Rod told presenter Stephen Bumfrey he was looking forward to putting on an energetic show at Carrow Road stadium, with a set list stretching back to his 1971 hit Maggie May.
"The only thing I pray for is that it doesn't rain - I have a notorious record that every time I do an outside gig it p*sses down with rain, so I am really, really hoping it doesn't rain," he said.
The worldwide star played in Norwich's legendary Orford Cellar at the start of his career, and although he doesn't remember the gig he looks back on that era of his life with fondness.
"They were good old days, they really were," said Rod.
"We had no road managers and everybody travelled in an old Dormobile bus. It's what I always refer to as my apprenticeship.
"I like the private jets now - getting from one gig to another. I've earnt it."
Listen again to the full interview on BBC Radio Norfolk with host Stephen Bumfrey until 17 March 2011.
BBC Radio Norfolk will broadcast coverage of Rod Stewart's Carrow Road gig on 8 June 2011.