Great Yarmouth Vauxhall bridge gets £295,000 for revamp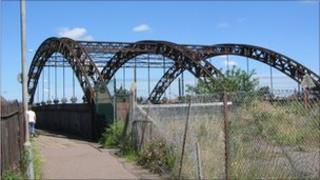 A disused railway bridge in Norfolk which was believed to be beyond repair could be restored following a £295,000 lottery grant.
Engineers studied Vauxhall suspension bridge in Great Yarmouth last year and found that repair or demolition would be expensive.
Community Connections had already been given funding from Norfolk County Council and other groups.
Under their plans initial work would cost £500,000 and include a new deck.
The eastern span including deck support beams, box girders and lattice arch will be fully refurbished and the approaches to the bridge will be improved.
Community Connections said the £295,000 from the lottery is on top of £400,000 received from the council, the Runham Vauxhall Fair Share Trust and others, some of which has already been spent on projects in the area.
Further funding is being sought for the full restoration of the entire structure.
The bridge was first opened in 1852 and in 1886 was modified to include the current footbridge and to take railway locomotives.
It was closed to vehicles in 1953 but is still used by pedestrians and cyclists and is the first historic structure seen by visitors arriving at the railway station.
Proposals for the bridge will be exhibited in the nearby Asda car park on Monday.