VoluME digital magazine: Latest on Norfolk music scene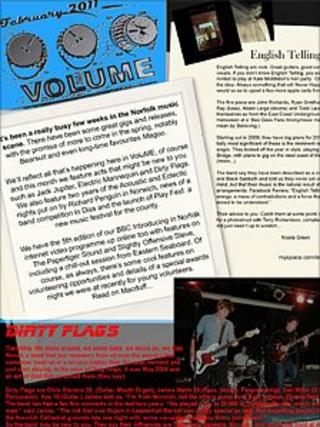 The new February edition of VoluME magazine - taking an in-depth look into the best new music in Norfolk - is out now.
The digital magazine is published every month by the team at BBC Introducing in Norfolk, part of BBC Voices at The Forum in Norwich.
The latest edition has profiles on Barlights, Death of Death of Discotheque and a lot more from your favourite local artists.
The packed issue also features the latest arts volunteering opportunities for young people in Norfolk.
E-magazine
The magazine is created by a team of volunteers who also help put together BBC Introducing in Norfolk - the weekly radio show that promotes under-the-radar and undiscovered music.
The e-magazine is eco-friendly too, as it's accessed through the internet and not distributed in print.
"It's a chance for people to learn new skills in the production of the magazine and let others know more about the local music scene," said VoluME editor John Watt.
"We have people writing articles, researching band information, finding out about gigs and taking photos too," he added.
BBC Introducing in Norfolk is broadcast every Friday night from 19:00 to 20:00 GMT on BBC Radio Norfolk, playing the best bands and artists from across the county.
"Norfolk has one of the most vibrant local music scenes in the country," said Gary Standley, producer of BBC Introducing in Norfolk.
"Our programme reflects this and being able to let people know what's coming up and encouraging people to go to gigs can only help build the scene further," he added.
You can view the latest VoluME magazine on YUDU.
To get involved in VoluME, send an e-mail to the production team.