BBC Radio Norfolk's Choir of the Year contest backed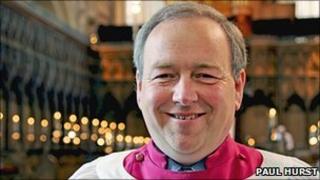 BBC Radio Norfolk's new Choir of the Year competition has received backing from the Diocese of Norwich.
Created by Sunday Breakfast presenter Emma Philpotts, it looks to uncover the best choral group in the county.
The winner will perform at a carol concert in Norwich Cathedral on 5 December 2011 and a Christmas Eve carol service at St Peter Mancroft church.
The contest reflects a strong interest in singing around Norfolk, according to the cathedral's master of music.
"While new choir numbers have been steady, it's more of a question of what's been achieved by existing groups," said David Lowe, who has worked with choral outreach projects in local schools for two years.
"The groups have had a big effect on young people's appreciation of choral singing," he added.
The competition will be judged by the Archdeacon of Norwich - the Venerable Jan McFarlane - as well as BBC Radio Norfolk presenter Helen McDermott and Peter Wilson, chief executive of Norwich Theatre Royal.
Download: Terms and conditions
[32Kb]
The choirs can be of any style or size and will be analysed on everything from musicality to team work.
"Having come across so many different churches with choirs, or events that have involved choirs, I realised just how many singing groups are out there in Norfolk," said Emma Philpotts, who will search for the best choirs every week as part of her show.
"I wanted to run this award to simply show off the incredible musical talent that we have in this county," she added.
Entrants
All choirs are welcome to enter the competition, whether they be a school, church, gospel, classical or community choir.
Entrants will be asked to submit a CD of a performance, along with a completed questionnaire and 500 words explaining why they should win the title.
Ten choirs will be picked as finalists and invited to a special recording day, where they will then record two songs - one of which will be broadcast on BBC Radio Norfolk.
The judges will get a chance to see the choirs sing live and make their decisions based upon the performances.
If you'd like to enter, you'll need an application pack and have it submitted to us by Sunday, 3 April 2011.
To get your pack, e-mail norfolk@bbc.co.uk. If you have any questions about the award, you can e-mail emma.philpotts@bbc.co.uk.
Before you submit your choir, please download the terms and conditions on this page.