Gas terminal in Norfolk tests emergency procedures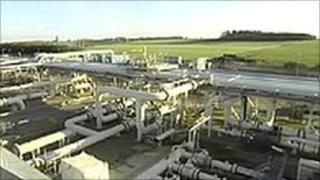 Emergency response procedures at a gas terminal in Norfolk are to be tested this week.
The site alarm will go off at Bacton Gas Terminal on Thursday morning and employees will leave the site.
All local emergency services will be involved in the exercise to test inter-agency co-operation.
Exercise director Sarah Alcock said: "It is essential that organisations have plans in place to deal with emergencies."
Bacton terminal receives natural gas from the southern North Sea, processes it and then distributes it through pipelines into the UK and Europe.
The exercise is part of the site operator's statutory obligation under Control of Major Accident Hazards Regulations 1999.