Bumper year for grey seal births on Norfolk coast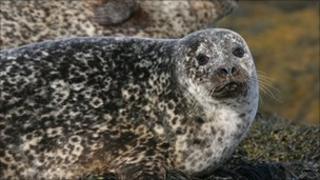 A record number of seals were born and survived during the breeding season last year on the Norfolk coast.
More than 700 grey seal pups were born between November and Christmas on Blakeney Point - a peninsula jutting out into the North Sea.
In 2001 only 25 were born in the area, conservationists report.
David Wood, National Trust head warden on the North Norfolk coast, said the massive colony had grown because it was protected from predators and people.
"They have been removed from many mainland places by predators and people and have ended up on islands.
"Because people are no longer affecting them as much as in the past they have returned to places where they would have been hundreds of years ago.
"That's one theory of why they're doing so well and its only on the east coast beaches that numbers are growing so much."