Friend murdered in cannabis row on Thetford estate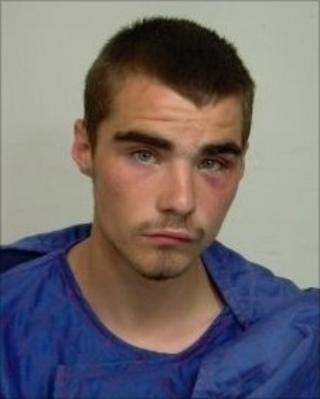 A 19-year-old has been found guilty of murdering his friend in a row over stolen cannabis.
Ryan Bowers, of Ely Way on Abbey Farm Estate, Thetford, Norfolk, had denied the murder of Anthony Adams, also 19, on 5 June 2010.
Norwich Crown Court heard Bowers stabbed Mr Adams in the argument. Mr Adams later died in hospital.
Bowers' girlfriend Shana Langston, 20, of Browing Road, Ipswich, was convicted of assisting an offender.
The court heard she intervened by hiding knives Bowers had used to stab Mr Adams and encouraged him to leave the scene.
The victim had gone to Ely Way armed with a baseball bat and shouting abuse after a burglary at his home in Norwich Road, Thetford, the jury was told.
As he stood on the pavement outside the house, Bowers emerged carrying two concealed knives and stabbed Mr Adams in the heart and liver.
During his evidence, Bowers said he was "sorry," and that the victim "didn't deserve to die," and he said "didn't intend to stab him."
He claimed he acted in self defence.
'Incredibly sad'
Police were called to the house and discovered Mr Adams with serious chest injuries. He was treated by paramedics and died a short time later at hospital.
Det Insp Andy Guy of the Norfolk and Suffolk Major Investigation Team, said: "It is incredibly sad that these two young men had been friends before the events that took place in June last year.
"Anthony has now lost his life and Ryan Bowers will spend a large part of his in prison.
"Throughout the trial Ryan Bowers said he didn't mean to kill Anthony, just use the knives to scare him.
"I have heard this many times over the years and the really clear message I want to send out is - do not carry knives.
"Those that do could risk finding themselves in the same position as Ryan Bowers."
Bowers is due to be sentenced on Wednesday and Langston on 8 February.