Cats die of anti-freeze poisoning in Norwich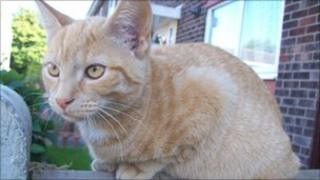 Five cats died of anti-freeze poisoning on the same day in Norwich, the RSPCA has revealed.
The charity is warning cat owners to take extra care after the death of the animals, which were all owned by Andrew Thompson, of Foster Road.
The cats all died on 30 December after becoming ill the day before.
In another part of Norwich, Woodland Close in Hellesdon, a cat called Jasper died of suspected anti-freeze poisoning on Wednesday.
'Horrific suffering'
RSPCA inspector Carrie O'Riordan said: "We are appealing to people in the Norwich area to be careful when using anti-freeze and to dispose of it properly where it cannot be reached by cats.
"Sometimes, such poisoning is deliberate and we are also asking anyone who knows that someone is laying poison to contact us as this is illegal and those responsible could face up to six months in prison if they are found guilty of causing an animal to suffer."
In November, the RSPCA said poisoning was to blame for the deaths of four cats in a Gorleston, Norfolk.
Two cats belonging to Katharine Snowling had to be put down on 7 November.
They displayed symptoms of poisoning similar to two cats owned by Nadine Fox who lived in a nearby street.