Calls made for referendum on King's Lynn incinerator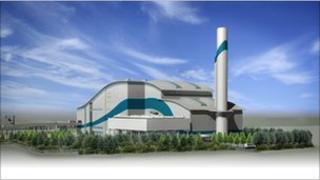 A call is being made for a referendum on incinerator plans for King's Lynn.
The £150m plant would convert waste into electricity which would power 36,000 Norfolk homes.
The Conservatives on King's Lynn and West Norfolk borough council want the authority to ask the county council for an area referendum on the plans.
The Conservative leader of the borough council, Nick Daubney, said if the county council refused he would suggest his authority organise one.
Mr Daubney said: "There's a real frustration that people feel they're not being allowed to have their say.
"I think one of the ways we could ensure they do have their full say is to have a borough wide poll."
Mr Daubney said he hoped a vote would be organised in January before the county council signs any contract with Cory Wheelabrator.
Government grant
Norfolk County Council has appointed the Anglo-American firm to build and run the plant at Saddlebow, near King's Lynn, subject to planning permission.
The facility would process about 260,000 tonnes of rubbish every year.
If it gets approval it is thought the facility could be ready in 2015.
The council said the £500m contract over 25 years was being aided by a £169m government grant raised from a national scheme funded by a Private Finance Initiative to divert waste from landfill.
Norfolk County Council leader, Derrick Murphy said: "Norfolk County Council recognises any local initiative by borough, district and city authorities to hold referenda on any issue, if they so wish.
"As the strategic authority for the whole of Norfolk the county council will encourage all residents of Norfolk to engage in the planning process, through the two public consultation processes in 2011."