Fakenham stab victim 'told police of text threats'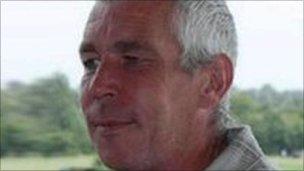 A man murdered in his Norfolk home in a "revenge attack" had told police he was receiving threatening text messages, a jury has heard.
Steven Murphy, 45, was found with 16 stab wounds in Fakenham in October 2009, Norwich Crown Court was told.
Alexander Dewar, 24, and Andrew Cameron, 28, of Blackpool, deny murder.
Mr Cameron and his father, James Cameron, 53, of Felixstowe, deny conspiracy to cause grievous bodily harm.
Karim Khalil, prosecuting, said Mr Cameron senior had heard about Mr Murphy's friendship with a woman, Julienne Dowling, and that this "got in the way".
He had caused some damage to Ms Dowling's home during the middle of last year and Mr Murphy had attacked him with a knife, injuring his hand, the jury was told.
The court heard it was a minor incident but it is claimed that Mr Cameron said he wanted to kill Mr Murphy.
Police investigated and were shown a number of threatening text messages Mr Murphy said he had received from Mr Cameron.
Mr Khalil told the jury that Mr Cameron and his son planned a "revenge attack" on Mr Murphy, which was then carried out by Andrew, of no fixed address, and his friend Mr Dewar, of St James Road.
The two men travelled by car from Blackpool to Fakenham on 30 September 2009 and visited Mr Murphy.
His body was found by his mother the next day.
The court heard he had been stabbed with two different knives, one of which had gone through his heart.
Related Internet Links
The BBC is not responsible for the content of external sites.