Norfolk County Council leaves post for India role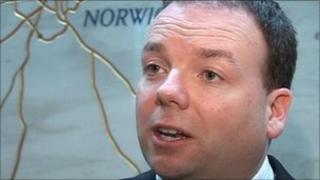 The leader of Norfolk County Council has resigned from his post in order to work as a volunteer in India.
Daniel Cox was appointed to the role in 2007 and aged 36, became one of the youngest council leaders in the country.
A Conservative, he represents Humbleyard for the county council and the Rustens ward on South Norfolk Council.
"I accept that the timing is not of the best," he said.
Mr Cox will leave for Delhi with his wife Katie in November.
A new leader will be appointed by a resolution of full council on 11 October, a council spokeswoman said.
Mr Cox said: "As volunteer service abroad is something we both feel passionate about, this is a opportunity we feel we cannot, and should not, miss now whilst our personal family circumstances allow.
"I am announcing my intentions now because I think it crucial that the forthcoming budget consultations and medium-term financial strategy for the council is led and owned by the new council leader and their cabinet for maximum legitimacy."