Online auction to name Norfolk zoo's cubs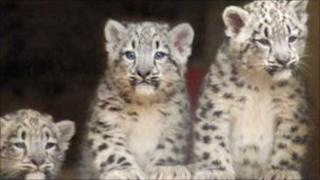 A Norfolk zoo is hosting an online auction for people to name three snow leopard cubs.
The male and two female cubs were born at Banham Zoo in May.
Zoo keepers could not choose a name so are auctioning the naming rights on eBay to raise money for conservation charity the Snow Leopard Trust.
The chosen names will be registered with the international stud book for snow leopards, so will be a permanent record.
The person who submits the winning bid will also get the chance to see the cubs and their keepers at the zoo, a spokesman said.
The cubs will remain at the zoo for at least 18 months after which they will be mature enough to be transferred to other zoos within the European Breeding Programme.
Snow leopards are an endangered species and the zoo has been involved in the European Breeding Programme for this species for more than 25 years.