Jobs hope for Connaught workers in Norwich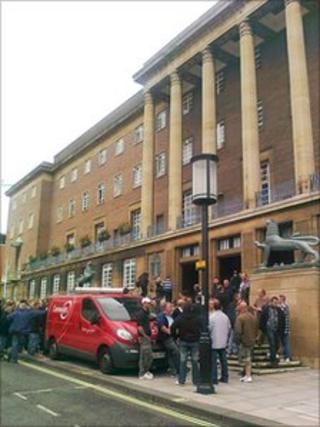 Connaught workers who lost their jobs with the company in Norwich may be re-employed in the city.
Three hundred staff contracted to Norwich City Council have been made redundant after Connaught Partnership failed to plug its debt.
Administrators KPMG have confirmed that a deal could be completed with an unnamed company.
Connaught carried out social housing contracts in Northamptonshire, Essex and Norfolk.
Connaught workers made redundant when the contractor collapsed could be given temporary work by Norwich City Council.
On Wednesday, two days after the job losses announcement, the city council said it had awarded emergency temporary contracts as part of its contingency plans.
All companies awarded the contracts have been asked to give preference to former Connaught workers.
Gas servicing will be provided short-term by Ward & Rooney Heating Ltd, and Ashford Commercial Ltd has taken charge of window replacements.
Connaught Compliance will cover emergency electrical and mechanical work.
Norwich City Council was one of Connaught's largest local authority clients.