Sainsbury's superstore backed despite Tesco challenge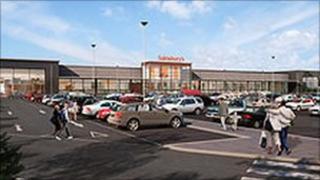 Plans for a new Sainsbury's superstore have won the support of King's Lynn and West Norfolk Borough Council despite a challenge from rival, Tesco.
The plans, which include a new link road and the modernisation of a frozen food factory, were approved in June.
Then lawyers for Tesco challenged the decision after its own plans for a store opposite the Sainsbury's site were turned down.
Sainsbury's said it was delighted and hoped to sign legal agreements soon.
Tesco would not say if it would continue its legal challenge.
'Back to life'
Tesco spokesman Michael Kissman said: "We remain focussed on our plans for King's Lynn as we believe these offer the best package of benefits for the town.
"Like the community we too want to see the former Campbell's site brought back to life, turning a derelict site into a thriving area of employment."
The Sainsbury's plan was developed with Morston Assets who own the Pinguin-Lutosa factory in King's Lynn.
After the rejection of its plans and the approval of the Sainsbury's superstore in June, Tesco's submitted a new planning application, and called for the Sainsbury's plan to be delayed.
But the council was advised that it could not approve both schemes because of the impact on the town centre.
Site secured
They confirmed their earlier decision and turned down Tesco's plan.
Sainsbury's and Morston Assets will not start construction until the three-month period allowed for any legal challenge has elapsed.
They said they hope to complete the store by late 2012 or early 2013.
The councillors' decision will also secure the future of the Pinguin-Lutosa site.
It processes vegetables from farms all over West Norfolk and the Fens.
The company had said it might have had to relocate its business to Cambridgeshire or Lincolnshire if the plans fell through.