Norfolk flood protection gate renovated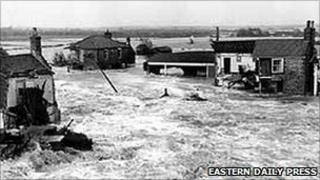 A sluice gate which protects west Norfolk from flooding is being refurbished by the Environment Agency.
The essential work will ensure the continued operation of Saddlebow Tail, which has been in place near King's Lynn for 50 years, the agency said.
Chains which lift seven sluice gates are being replaced for the first time since it was opened in the late 1950s.
The new chains will save the agency £16,000 a year, it added, and are expected to last for 50 years.
The replacement chains do not lead lubricating.
Devastating floods
The Environment Agency said the contractors were inspecting and repainting the vertical sluice gates and gate flaps to protect the steel work from corrosion.
The sluice's construction marked the final stage in the Flood Relief Channel, which runs 10 miles (17km) from Denver to Saddlebow and can hold up to 9.5 million cubic metres of water at a time (more than 2 billion gallons).
It was designed to protect 960 homes from the ravages of flooding from rivers, such as the severe 1947 floods, and tidal surges, such as the devastating 1953 floods.
The sluice's name is derived from its position at the tail end of the Flood Relief Channel where it meets the River Great Ouse near King's Lynn power station.
The work is expected to be completed by October.