Rescued Amersham pony mothers orphan foal in Norfolk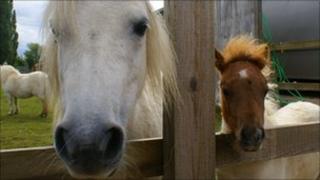 A pony rescued from a Buckinghamshire horse trader who was jailed for cruel treatment has adopted an orphaned foal.
More than 100 animals were found emaciated, dehydrated, starved and seriously ill at Spindle Farm in Amersham in January 2008.
Gretel was taken to Redwings Horse Sanctuary in Norfolk and is now mothering orphan Shetland pony Lewis.
Lewis' mother died from colic six weeks after he was born and his owners could not look after him.
'Fantastic mum'
Redwings head of welfare, Nic de Brauwere, said: "A foal needs the guidance and social skills that can only come from its mother so it was vital we teamed Lewis up with another equine resident who would love and nurture him while showing him how to be a pony.
"Gretel clearly enjoys mothering Lewis and he seems to appreciate the 'shelter' being with his new mum gives him emotionally.
"Gretel being such a fantastic surrogate mum is particularly poignant to us as she came from such a large rescue where the outcome could have been very different."
James Gray, 46, who lived at Spindle Farm, Amersham, was jailed for animal cruelty offences. His son, wife and daughters were also found guilty of animal welfare offences.
All of them were banned from keeping horses, ponies and donkeys.
Gray was banned for life, while his wife, son and daughters were each banned for 10 years.
At the Aylesbury Crown Court hearing Judge Christopher Tyrer had said that the cruelty at Spindle Farm was "on a scale that beggars belief".