Work starts on new Cromer Hospital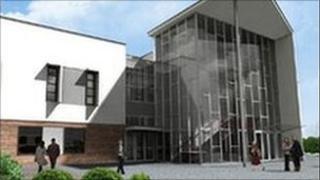 Construction of a new £15m hospital in Norfolk has begun.
Cromer and District Hospital is being built by contractors, Mansell, and will replace the original Mill Road hospital which first opened in 1932.
It will provide day treatment, out-patient care, renal dialysis and extended diagnostic services.
The hospital is set to be completed by spring 2012. The construction work is being phased to ensure that clinical services can continue to run.
The first phase involves refurbishing the old Barclay ward for the renal dialysis unit, Norfolk and Norwich University Hospital NHS Trust said.
The second phase runs from February to April 2011 and will include the removal of the current dialysis unit, demolition of the old boiler house and construction of an access road for the builders.
Two legacies
Once completed, services will be transferred to the new hospital and the old hospital will be demolished and landscaped.
The trust said the new hospital will see about 11,000 more patients a year than the current site.
Its minor injuries unit will be named after Sagle Bernstein and the procedure unit on the first floor of the new hospital will be named after her sister Muriel Thoms.
Mrs Bernstein left a £12m bequest in 2000, as a thank you to staff who cared for Ms Thoms.
Phyllis Cox, who had been a patient in the hospital in the 1950s, bequeathed £1.4m four years later.
The audiology unit will be named after her.