'Twister' causes damage to Watton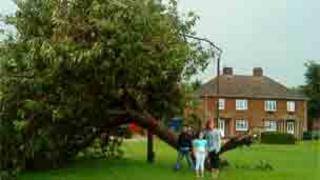 High winds described as a small "twister" hit a Norfolk town, causing minor damage to homes, power lines to swing violently and trees to fall.
The winds, which hit Watton on Sunday afternoon, uprooted an oak tree and residents reported damage to tiled roofs and school playgrounds.
Branches were thrown across roads but no major problems have been reported.
Weather experts said it was possible the damage had been caused by a funnel cloud or "twister".
Resident Stevie Willis said: "Tiles came off roofs and the local primary school's outside adventure play area received some damage.
"A few family back gardens were also hit.
"My sister and niece stood at the front door and watched it go through."
A spokesman for BBC forecaster Weatherquest said: "About that time, a line of thunderstorms came through from the North Sea, and Watton was in line with them.
"It is likely to be a funnel cloud or a twister would form and because there was damage on the ground it is likely to be the case."