The false teeth that 'helped win WWII' are auctioned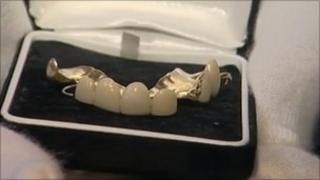 Some people with a natural speech impediment make efforts to overcome it or cover it up.
But Winston Churchill came to value his as a vital weapon in the war effort.
In his wartime radio broadcasts, Churchill's distinctive voice was instantly recognisable. He wanted it to stay that way, so he had his dentures designed specifically to preserve his lisp.
They were made by a young dental technician called Derek Cudlipp, and a set of the dentures has been in his family since Churchill's death - but have been sold at auction for £15,200.
'Vital to war effort'
His son Nigel Cudlipp said his father's work was so important to Churchill the World War II prime minister would not let him join up and fight.
"When my father's call up papers came, Churchill personally tore them up," he said.
"Churchill said that he would be more important to the war effort if he stayed in London to repair his dentures."
And it seems they needed regular work.
"Churchill used to flick out his dentures when he was angry and throw them across the room," said Mr Cudlipp.
"My father used to say he could tell how the war was going by how far they flew."
For the last few years Mr Cudlipp has kept the dentures in a drawer at his house. He is selling them at auction because he feels they should be on public display.
The only other existing set is in the Hunterian Museum at the Royal College of Surgeons in London - donated by the Cudlipp family.
Churchill's dentures are one of the museum's most popular exhibits. In a glass fronted cabinet, flanked by the teeth of royalty, they have pride of place.
"These really are the teeth that saved the world," said the museum's head of learning, Jane Hughes.
"Without them, 'Fight them on the beaches' would never have sounded the same. They were vital to the war effort."
Keys Auctioneers in Aylsham in Norfolk is building a reputation for dealing in Churchill memorabilia. Recently it sold one of Churchill's half-smoked cigars for £4,500.
And the sale of Churchill's dentures has attracted plenty of attention.
"We've had enquiries from all over the world," said auctioneer Andrew Bullock.
"We've never seen this much interest in any item we've sold. We've valued the dentures at £4,000-5,000, but I wouldn't be surprised if they went for ten times that."
Never has so much attention been paid by so many, to so few teeth.