Demolition of King's Lynn 'eyesore' grain silos begins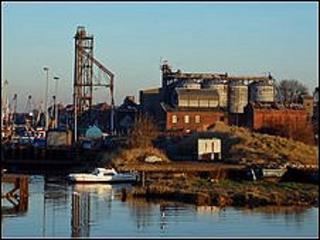 Derelict grain silos which are considered "a blot on King's Lynn's landscape" are being knocked down.
Work to demolish the silos and associated buildings on South Quay in the Norfolk town began on Monday.
West Norfolk Council said the buildings had deteriorated and become a haven for rough sleeping and "undesirable activity".
A Section 215 notice was issued last year, requiring the site to be tidied up with various areas demolished.
Jason Law, the council's cabinet member for regeneration, said: "The site has become a real eyesore and the buildings have become unsafe, resulting in Devils Alley being fenced off.
"This will tidy up the site and make the whole area along the waterfront more attractive for visitors and more pleasant for local residents."
Work is being carried out by the administrators and includes demolition of the grain silos, granary and gantry and repairs to the brickwork and roofing of other buildings on the site.
Mr Law added: "The contractors are aware that this site is situated within a Conservation Area and will be ensuring that the work is undertaken sensitively and that disruption is kept to a minimum."
A £15m redevelopment of the waterfront by the firm Inner Circle was to start in 2009 but the project has stalled.