Dad's Army captain Thetford statue vandal caught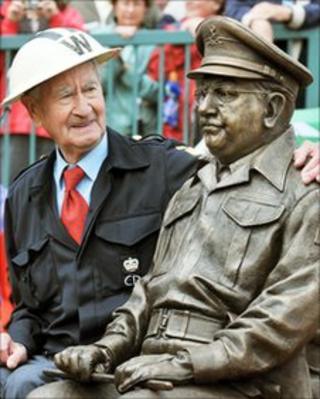 A 10-year-old boy who vandalised a Norfolk town's statue of Captain Mainwaring from the BBC series Dad's Army has been caught by police.
The life-size bronze cast of the character, played by Arthur Lowe, seated on a bench by the Old Anchor Hotel in Thetford was unveiled in June.
On 4 July the boy, who cannot be named because of his age, was caught on CCTV repeatedly kicking the statue.
A police spokeswoman said the boy had been "reprimanded".
The glasses on the statue were broken off and thrown in a nearby river.
Pc Keith Kenny said: "The boy spent nearly 10 minutes kicking the statue of Captain Mainwaring.
"The statue forms an important part of Thetford's history, which the community is rightly proud of.
"Wanton damage such as this will not be tolerated."
The statue was funded by the Friends of Dad's Army Museum, also based in Thetford.
The sitcom, about the Home Guard during World War II, was written by Jimmy Perry and David Croft and first ran between 1968 and 1977.