Kirkdale fire: Scrap yard fire caused by battery, report says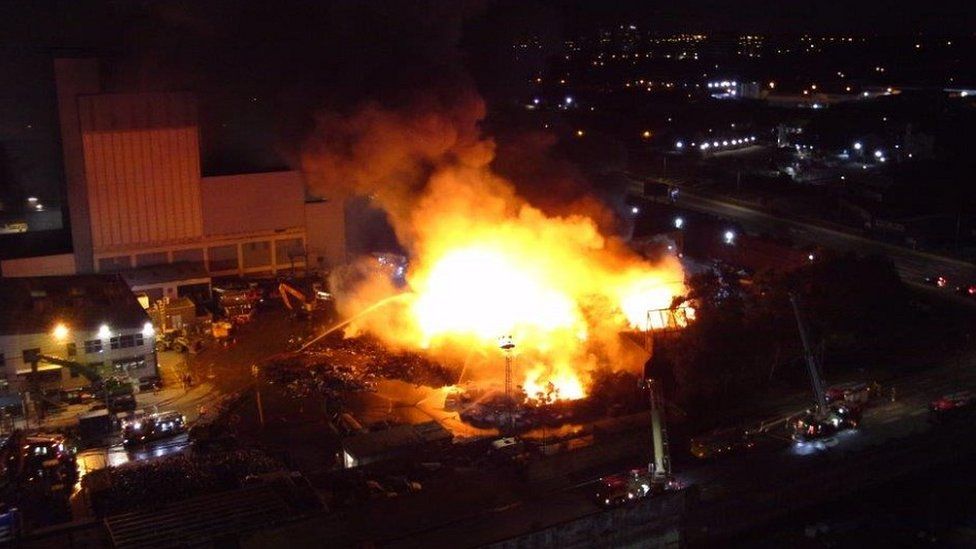 A discarded battery is believed to have been the cause of a major blaze at a scrap yard, a new report has revealed.
The findings of an investigation into blaze found the fire had "originated in the waste from the electrical and electronic equipment pile".
The "likely ignition source" of the blaze had been a discarded lithium-ion battery, the report added.
The details were published in a report following a meeting between Liverpool City Council's public health and emergency planning bodies, the Environment Agency (EA) and neighbouring local authorities.
The report noted that while thermal imaging had been installed at the site to identify hot spots in the waste, "it had not been fully in use" and included blind spots.
However, upgrades to the thermal imaging system have since been made.
A review was also carried out into access at the site in a bid to improve any future responses by the fire service.
Regular site visits have been introduced and should the operator breach conditions of its permit, it could face enforcement or legal action, the report added.
"It was agreed that clear lines of communication between the operators of waste metal facilities and the various agencies such as the [fire service] were needed when incidents such as the Norton's fire occurred, as it was clear this hadn't been the case in the September 2021 incident," the report added.
"This was evidenced by the fact that notification of the fire to the [fire service] came from a member of public dialling 999."
Increased staffing outside of regular business hours has also been introduced to increase awareness of potential incidents before they occur, the report added.