UK's largest carbon capture plant opens in Northwich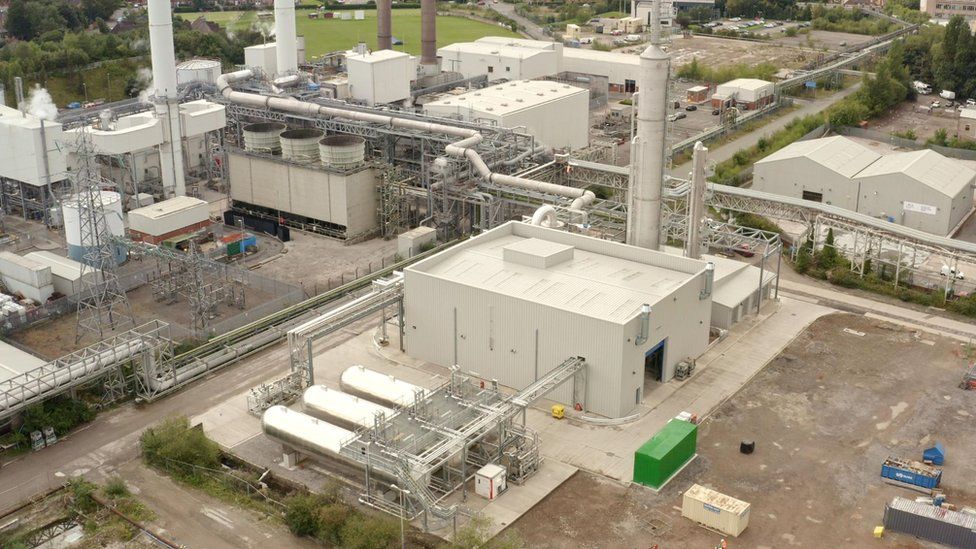 The UK's largest carbon capture plant, which will aim to recycle 40,000 tonnes of waste CO2 each year, has opened.
Tata Chemicals Europe's (TCE) site in Northwich, Cheshire, will be the first in the world to purify and liquefy carbon dioxide as a raw material to make bicarbonate of soda.
The plant will extract the CO2, which contributes to climate change, and it will be purified to food and pharmaceutical grade and used as a raw material to produce bicarbonate of soda, known as as Ecokark.
Its annual target will be the equivalent of taking more than 20,000 cars off the roads.
The bicarbonate of soda will be exported to more than 60 countries, with the majority used to treat people living with kidney disease and the rest used in water purification and to make glass, detergents, pharmaceuticals, food and animal feed.
TCE managing director Martin Ashcroft said the project was "a great example of business and government together rising to the challenge of decarbonising energy-intensive industrial manufacturing".
Business and Energy Secretary Kwasi Kwarteng said the facility "demonstrates how carbon capture is attracting new private capital into the UK and is boosting new innovation in green technologies".
"We are determined to make the UK a world-leader in carbon capture, which will help us reduce emissions and be a key part of the future of British industry."
The local Labour MP Mike Amesbury added that manufacturing had been "key to this area for over 150 years, so it's great to be part of such an historic moment".
"Even though today, there are many competing agendas, sustainability is still crucial and we must continue working towards net zero," he said.
Related Internet Links
The BBC is not responsible for the content of external sites.