April Ashley: Transgender pioneer's 'spectacular legacy' to be celebrated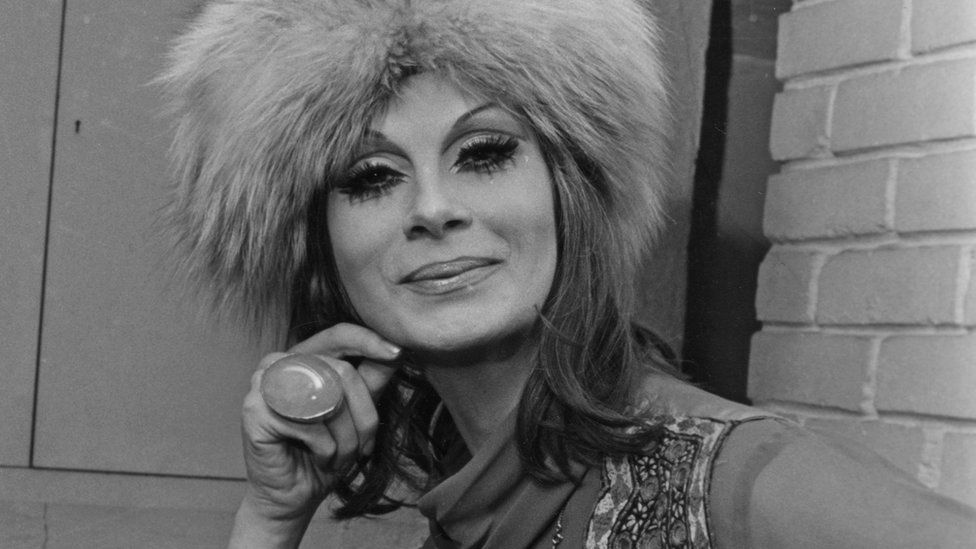 The friends of transgender pioneer April Ashley are to celebrate her "spectacular" legacy in her home city.
Liverpool-born Ashley, who died in 2021, was one of the first people to undergo surgery and went on to become a famous model, restaurateur and actress.
Her personal papers document everything from dinners with David Hockney to correspondence with Elizabeth Taylor.
Her friends Lou Muddle and Bev Ayre said a new archive would show who she really was and "not just the myth".
The pair, who are both from Liverpool, were tasked by Ashley to sort through her belongings after discovering she "kept absolutely everything".
Ms Ayre said Ashley had been "truly spectacular" and was "family to us", though she admits that closeness came with more than a touch of stardust.
"It was like having Elvis or David Bowie in the family," she said.
"You would always be taken aback by her incredible stories."
Ashley, who was born in Liverpool in 1935, served in the merchant navy as a teenager before moving to Paris and working in a nightclub while saving for gender reassignment surgery, which she underwent in Casablanca, Morocco, in 1960.
Working as a model and actress, she appeared in Vogue magazine and starred alongside Bob Hope, Bing Crosby and Joan Collins, but her career was cut short when the Sunday People outed her in 1961.
Two years later, she married aristocrat Arthur Cameron Corbett, but the marriage was annulled in 1970 when a judge ruled it was not possible to legally change sex and as such, the union was invalid.
A memorial service was recently held for her at Liverpool's St George's Hall, which saw film director John Waters describe her as "so elegant, so proper".
"She was a real queen, and I don't mean drag, I mean a majesty," he added.
Ms Ayre said she believed Ashley had had "one of the great lives of the 20th Century".
She said it was "not only with her impact on trans rights, but also as a person, [as] her story spans for huge swathe of history".
"She had a meteoric rise into stardom," she added.
"We want to give an insight into what a person April was, not just the myth."
She said going through Ashley's documents, the pair had found some surprising items.
"We looked in her address book and there was Harrison Ford's name and number scrawled in there," she said.
She said Ashley's collection also included a letter from screen legend Elizabeth Taylor, who had thanked her for "making her feel better" after she became ill.
Ms Muddle said alongside collating the documents and photographs, the pair also wanted record interviews with those who knew Ashley, starting with her friends and acquaintances from the 1950s and 1960s.
She said because of the age of some of the people involved, there was "more of an urgency" to gather the "fragile heritage" as soon as possible.
The pair have begun work with Liverpool City Council and the Museum of Liverpool to establish a legacy group and build on the year-long exhibition held in the city in 2013, which Ms Muddle said was believed to have been "the first and biggest exhibition in the UK dedicated to a transgender life".
Museum director Janet Dugdale said that show had been "significant" and "continued to impact collections and programming a decade later".
She added that the institution was "honoured" to be working with Ms Ayre and Ms Muddle to continue documenting Ashley's history.