Liverpool fans heading to Paris face long delays at Dover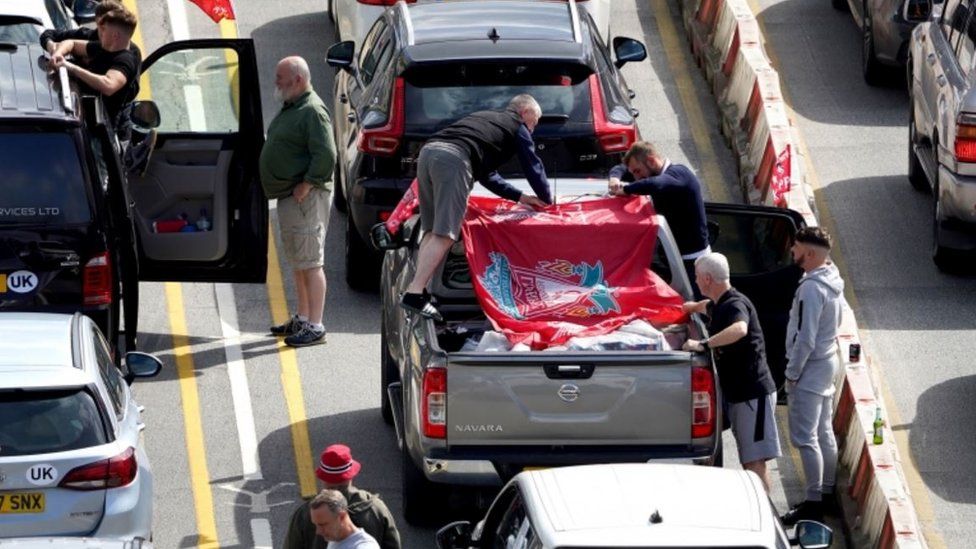 Liverpool fans travelling to the Champions League final are facing long queues at the Port of Dover.
Thousands of supporters have descended on the Kent port to board ferries to France for Saturday's match in Paris.
Some fans are complaining of "chaos" as they are stuck in hours-long queues alongside families heading for half-term holidays.
The port advised people to "pack adequate supplies including food and water" as major delays were expected.
Up to 70,000 fans are expected to flock to France to watch the game, according to local authorities.
Liam Devlin, who was among those queuing in the port, wrote on Twitter: "Absolute chaos at the Port of Dover.
"Taking around three hours to get through to the gates to even board any ferry, double the amount of time they advise.
"No organisation whatsoever. Shambles."
Another fan wrote: "Three hours in a queue at Dover after driving down on no sleep is comparable to the pain of childbirth. Glad we're a day early."
Ferry firm Irish Ferries warned customers to "expect delays of up to three hours at port security and check-in".
Suleman Qureshi, 31, who is travelling in a group of 20 from Peterborough, said: "The queues at Dover are ridiculous as expected. The reds have taken over."
"We expected it and allowed an extra three hours," he added.
"Everyone is calm, there's a good vibe, everyone is best friends."
P&O Ferries said traffic on Jubilee Way, a key road used to access the port, was "at a standstill" and there were "also queues on the A20 on the approach to Dover".
It said it expected traffic "to remain heavy" and passengers who miss their sailings would be allowed to travel on the next available service.
Another operator, DFDS, wrote on Twitter: "We are aware of our lovely customers queuing in the port. We'll accommodate you on the next available departure."
Gary Stone, 47, a landscaper from Woolton, said: "It was a real mammoth journey, 10 hours, no sleep but what a laugh it's gonna be.
"It'll be a carnival atmosphere, no-one does it like the Reds, we're the best fans in the world."
Liverpool John Lennon Airport is also busy with supporters flying to Paris.
The airport has put on 34 extra flights to take about 9,000 fans to Paris directly from the airport on Friday and Saturday, with 13 flights for fans departing on Friday and 21 flights departing on Saturday morning.
Meanwhile in Paris, a fan zone will be set up in the south-east on Cours de Vincennes in the city, about 10km (6.2m) from the stadium, on Saturday.
Police in Paris said 6,800 officers and military personnel will be mobilised, with flares prohibited in the fan zone, which has a capacity of up to 44,000 supporters and open from early afternoon until the end of the match.
Related Internet Links
The BBC is not responsible for the content of external sites.