Warrington and Alder Hey hospitals' neglect led to girl's death - coroner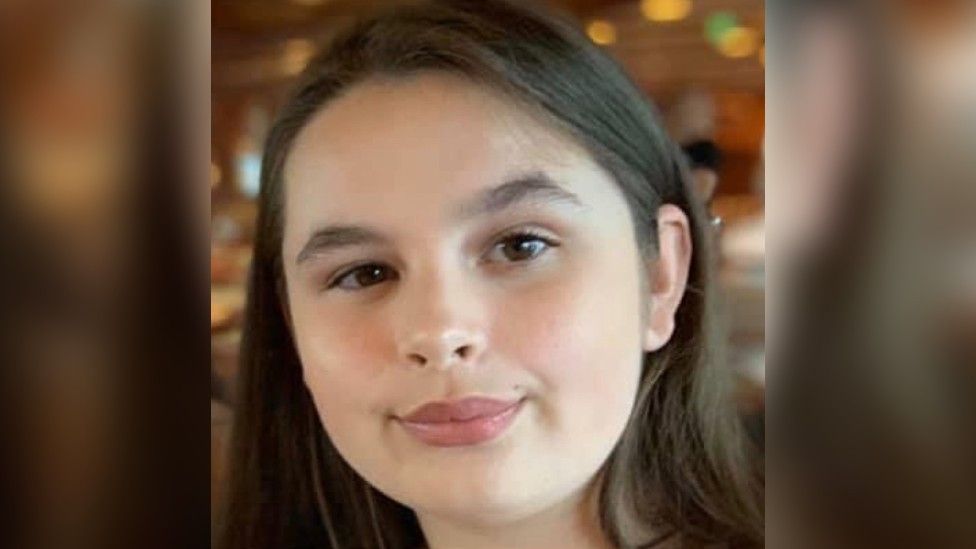 Neglect by two hospitals contributed to the death of a 14-year-old girl who died five days after being diagnosed with leukaemia, a coroner has ruled.
Katie Wilkins, from Warrington, died from a catastrophic bleed on the brain at Liverpool's Alder Hey Children's Hospital on 31 July 2020.
The court heard Warrington Hospital medics could have diagnosed Katie with the rare form of cancer earlier.
Both hospitals apologised and said changes had been made to systems.
Alder Hey Hospital said "robust lines of communication" have since been put in place, while Warrington and Halton NHS Foundation Trust said it had taken "robust steps to mitigate delays in diagnosing underlying oncological conditions".
Gerard Majella Courthouse heard how Katie attended Warrington Hospital with pain and was diagnosed with an abscess on 30 June 2020.
She made a further five visits in July with worsening symptoms which included pain, bruising and fever.
The coroner heard how staff failed to take basic blood tests which would have diagnosed the disease.
The teenager collapsed at home on 26 July and was diagnosed with acute promyelocytic leukaemia (APML).
APML attacks a substance in the body called fibrinogen, a protein that is essential for blood clotting.
Katie was taken to Alder Hey Hospital and was prescribed fibrinogen as part of her care plan due to the high risk of haemorrhaging with APML.
The instructions to administer fibrinogen did not make it to the cancer specialists and so when her levels fell and she complained of a headache she did not receive it.
Katie suffered a catastrophic bleed and died on 31 July.
The coroner found that Alder Hey did not provide "basic and fundamental care" to Katie after they failed to administer the vital blood-clotting product and ruled Katie's death was contributed to by neglect on the part of both hospital trusts.
Katie was described by her family as a "funny, caring and sassy girl with a contagious smile".
Her parents, Jeanette Whitfield and Jonathan Wilkins said her death left a "huge hole" in their hearts and the day she had been taken to theatre was "like something out of a horror film".
"Even after Katie had been let down so badly by Warrington General Hospital, we believed that the staff at Alder Hey were experts who would treat our daughter with the utmost care," they added.
Ms Whitfield, told the inquest her daughter had been "drastically let down" by health professionals.
A spokeswoman for Alder Hey Hospital said: "Katie did not receive the high standard of care we pride ourselves on delivering to our patients and we apologise unreservedly to Katie's family for this."
The hospital said it had introduced new processes ensuring robust lines of communication between haematology and oncology teams were in place.
The trust was "fully committed to ensuring that lessons are learnt to improve care," she added.
Dr Paul Fitzsimmons, executive medical director at Warrington and Halton NHS Trust said: "We have made changes to our policies and systems specifically relating to processes around early warning scores in children and young people and earlier referrals to paediatric colleagues.
"We have also taken robust steps to mitigate against any potential delay in diagnosing any underlying oncological (cancer) conditions in the future."
Related Internet Links
The BBC is not responsible for the content of external sites.