John Lennon's son opens Yoko Ono performance centre in Liverpool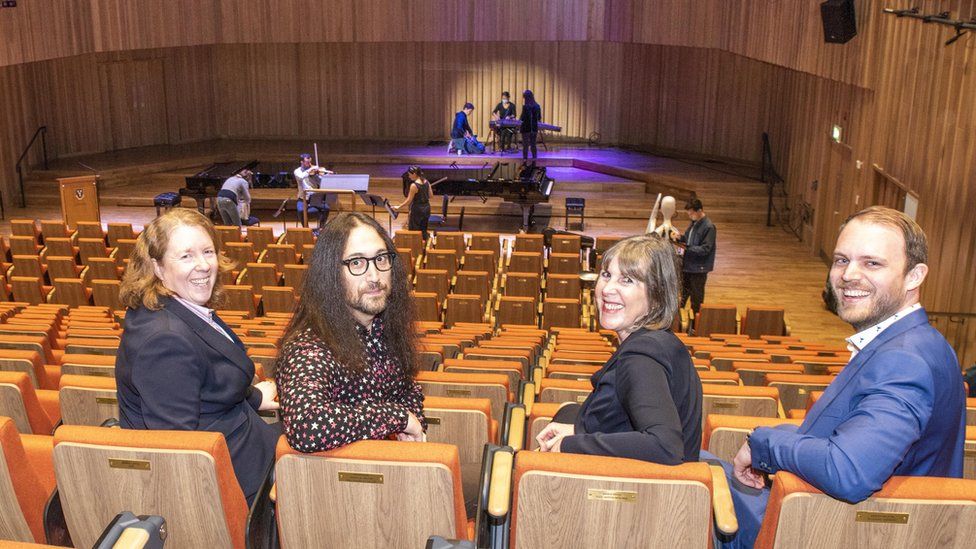 Sean Lennon has told of his mother Yoko Ono's "great love for Liverpool" as he opened a new performance centre named after her in the city.
The son of Beatles legend John Lennon officially unveiled the Yoko Ono Lennon Centre, home to the University of Liverpool's new 400-seat concert hall, The Tung Auditorium.
The 46-year-old said his mother cared about "continuing my father's legacy" in Liverpool.
Ms Ono Lennon said she was "thrilled".
She added: "Liverpool has become part of me from years of going there, and with this new centre part of me will always be there - for that I'm very thankful.
"I think John is smiling about it too."
Ms Ono Lennon has a long standing connection the university, setting up the John Lennon Memorial Scholarship, to help students from Merseyside in need of financial support, in 1991.
In 2001 she was awarded an honorary degree.
The university's vice chancellor, Professor Dame Janet Beer, described Ms Ono Lennon as "a cultural icon and part of this city's proud musical heritage".
"Being able to name this wonderful building in honour of Yoko Ono Lennon cements her status as one of our university's greatest benefactors and the venue celebrates her unique artistic vision and cultural significance," she said.
Mr Lennon added: "[My mother] loves this school, she loves this city and she really cares about continuing my father's legacy in this town.
"I think for her it means a lot to be recognised this way. It's very nice and it's about time because often she has been overlooked."
The Yoko Ono Lennon Centre, located on the corner of Grover Street and Oxford Street, also features two lecture theatres and a café.
Related Internet Links
The BBC is not responsible for the content of external sites.