Liverpool LGBTQ artwork vandalism treated as hate crime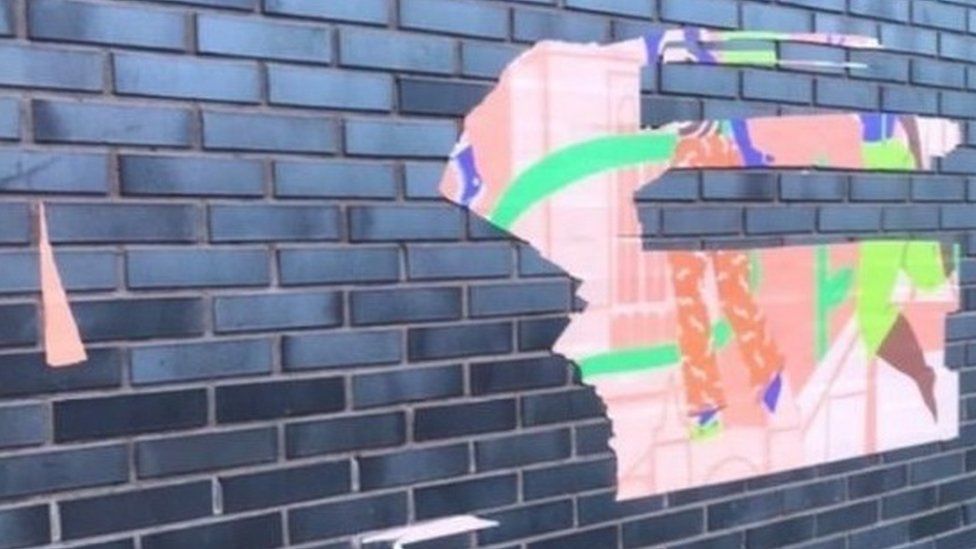 Two LGBTQ artworks created in response to hate crimes have been vandalised within days of them being installed.
The exhibition's organiser Homotopia said it was "devastated" by the acts.
Merseyside Police said both incidents were being investigated for criminal damage and being treated as a hate crime.
Artist Rosa Kusabbi's work Hate Has No Place in Liverpool was ripped down from the wall of Liverpool One on Friday night, Homotopia said.
Ben Youdan's piece titled Queer With No Fear was then torn down from a window in Wood Street and destroyed on Tuesday night.
The pieces were commissioned as part of an outdoor exhibition called Queer in the City, a campaign to make Liverpool a safe space for the LGBTQ community.
In June, hundreds of people gathered in the city to protest over hate crimes involving "homophobic slurs" in Fleet Street, Bold Street and Upper Newington Street.
Some victims reported being held up at knifepoint, while others said they were beaten up.
Homotopia said it "was not the sole responsibility of LGBTQIA people to keep each other safe, it is everyone's responsibility".
Councillor Harry Doyle said he was "saddened and angry" at the vandalism, adding: "This is not the Liverpool I know and love."
"Hate and discrimination has no place here, and as the city council we will continue to proudly support campaigns which send out the message that homophobia, transphobia and biphobia will not be tolerated," hesaid.
Homotopia said it was working to restore the pieces as soon as possible.
Insp Charlotte Irlam, from Merseyside Police, said: "We are checking CCTV footage and will be inspecting the other artwork around the city which has been installed as part of the outdoor exhibition.
"We are also engaging with the LGBTQ+ community to reassure them that we are taking this incident seriously and we will take action against those responsible.
"Liverpool has a reputation for being a welcoming, friendly city and there is no place here for hate crime."
Related Internet Links
The BBC is not responsible for the content of external sites.