University of Liverpool students call for marking boycott to be resolved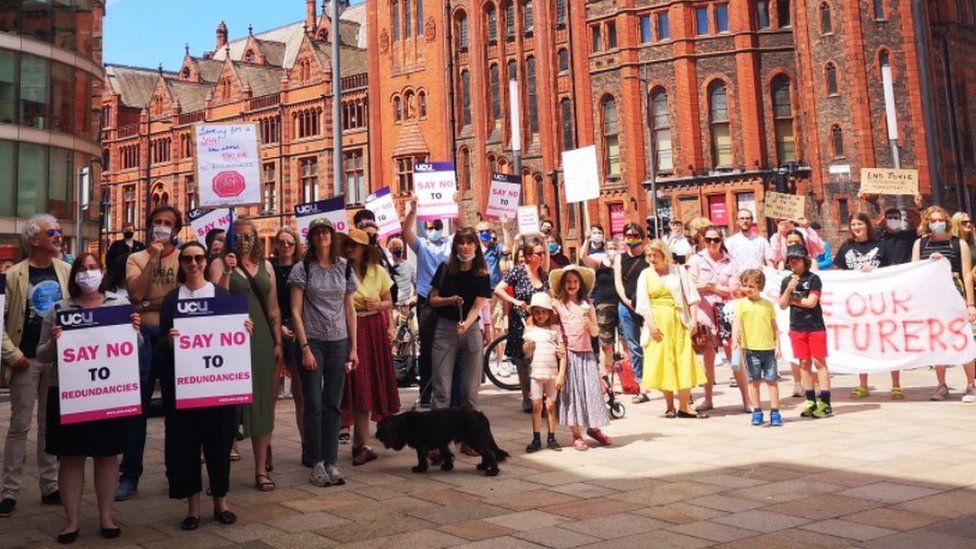 A students union is backing a marking boycott by university staff in protest over job cuts but said it had "serious fears" over the damage it could cause.
The University of Liverpool is proposing to make 24 redundancies in the Health and Life Sciences faculty.
More than 1,000 staff will take part in the boycott, the University and College Union (UCU) said.
The Liverpool Guild of Students said the job cut plan was "unfair" and "causing stress".
The university said it would not delay in publishing students' results.
It also said it would withhold wages from staff who refused to mark work where this results in marks not being submitted by 5 July.
The latest move is part of a work-to-rule action by union members and follows a three-week strike which ended last week.
The Liverpool Guild of Students said fears about work being "fairly assessed" and potential delays to results was causing "unnecessary stress" and "frustration", particularly on students in their final year.
Vice-president Chloe Field said: "There is no way to mitigate the impact this will have.
"It's unfair students are taking the brunt of this when the uni should just save the jobs.
"No one should lose their jobs during the pandemic, especially when the health department has been contributing so much to Covid research."
She said she was hearing stories from students of how "amazing" staff at risk of redundancy were and had gone "above and beyond" to help them.
A University of Liverpool spokeswoman said awarding degrees was "a privilege" and "there are no circumstances in which we would risk the integrity and value of that award".
She added: "Students will receive available results in line with published deadlines and for the majority of students this will be on 5 July."
The UCU has described the university as "disgraceful" for telling staff it would withhold wages over the matter.
General secretary Jo Grady said it was "tantamount to a lock-out" when they were willing to perform the majority of their duties, adding: "We have never seen a university behave so egregiously."
The university said it expected staff to perform their contractual duties in full.
As the boycott could potentially cause "undue stress and disruption" to students, it had decided it was "proportionate and necessary" to withhold 100% of pay for those taking part.
Related Internet Links
The BBC is not responsible for the content of external sites.