The Boxing Day game that changed women's football
By Jenny Coleman
BBC News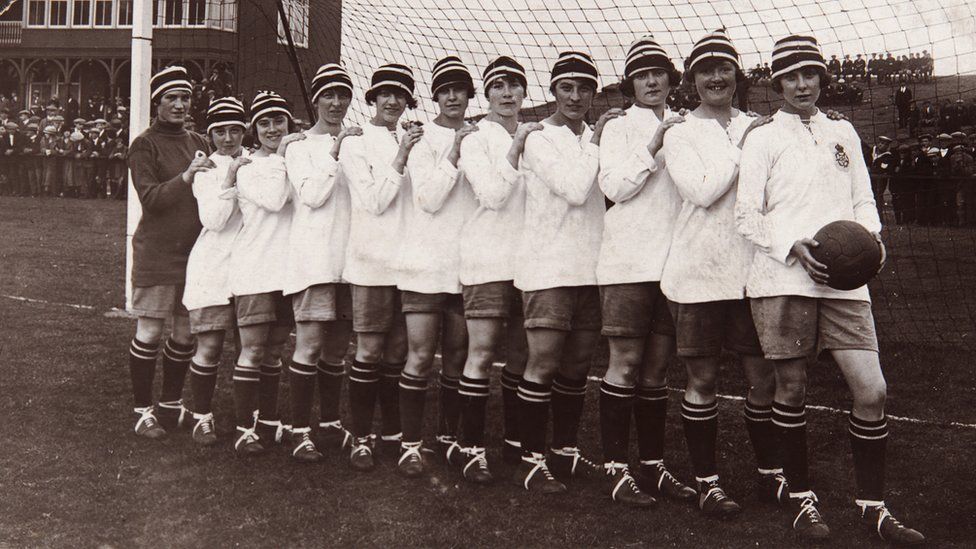 On a Boxing Day afternoon in Liverpool in 1920, more than 53,000 football fans crammed into Goodison Park with another 14,000 locked outside.
You'd be forgiven for thinking it was a local derby, but Everton had played the day before and lost to Arsenal.
The capacity crowd had come to watch a women's charity match between Dick, Kerr Ladies and St Helens Ladies.
Raising money for wounded soldiers, the game had huge support. But a year later, women's football was banned.
"There were no women's league at the time so the women's games were all played for charity," says author and former Preston Rangers player and author Gail Newsham.
"The war had touched everyone in some way or another - some of the girls lost their own brothers or brothers-in-law, and it was them wanting to give something back."
Women's football took off during World War One when women who were working in munitions factories across the country started up teams to raise funds for injured soldiers returning from the front.
With the men's league suspended during hostilities, the women's game grew in popularity "attracting big crowds", said Gail, a former player herself.
"When I spoke to people who had been to the matches, they said it wasn't about watching women run around in shorts, but they just wanted to watch a good game of football," she said.
But the big crowd at Goodison caught the attention of the FA who decided the game of football was "quite unsuitable for females" and claimed it could affect a woman's "frame" and fertility. Within a year the sport was stopped.
"It's laughable now," said Gail, who tells the story of Dick, Kerr Ladies in her book In a League of Their Own, "but it felt like they became victims of their own success".
"It was a seismic shock to the FA how many people turned up. If you think that's before the days of social media, its phenomenal".
But the popularity of the women's game came at a time when the Football League was expanding, and division three was introduced.
Gail believes this could have had an impact as the grounds and crowds would be wanted for the new tier of men's football.
The Goodison Park game seemed to be the turning point. In the months that followed, women's teams were tied by a host of new restrictions until finally, on 5 December 1921, the FA banned women's football.
The Boxing Day match between Dick, Kerr Ladies and St Helens Ladies remained the biggest crowd at a women's game in this country for over 90 years until the London Olympics in 2012 when Great Britain played Brazil at Wembley in front of 70,584 people. And in 2019 a new record was set when 77,768 saw England lose to Germany at Wembley.
Now 100 years on, women footballers will mark the occasion at 15:00 GMT on Boxing Day by raising a toast to those women who first kicked off interest in their sport.
One of them is former Liverpool, Everton and England international goalkeeper Rachel Brown-Finnis who said it's important to remember the women "put the first markers in the road".
"They were pioneers," she said. "People talk about my generation raising the profile of women's professional football but these ladies were drawing the crowds 100 years ago".
"Women's football was highly regarded in that era but it became that women didn't play for a generation and that certainly derailed women's football for a while".
Burnley-born Rachel started playing aged seven at primary school in Accrington and she was allowed to play in the school's boy's team as there wasn't a team for girls.
"The lads didn't treat me any differently because I was a girl," she said.
"They were happy I was good enough and it was never a problem."
But when Rachel started secondary school, mixed gender teams weren't allowed and she was forced to take a break from playing until she joined Accrington Ladies when she was 12.
Looking back on her career, Rachel said she was jealous of the women who played a century ago.
"The ladies in 1920 probably played at Goodison Park more than me," she said explaining that when she played for Everton Ladies, the team was based at Marine FC in Crosby.
"I only played at Goodison a handful of times in my career but when I did it was an amazing experience".
Rachel said clubs are now more committed to the women's game "from grass roots to senior level club level" which has helped see a "huge shift" in the way the game is perceived.
Talking about the Women's World Cup in 2019, Rachel said: "The fact people went to the pub to watch women's football shows a real change in mindset regarding the game.
"Being a professional female football player is now a real option for young girls," she added.
"Women's football has come a long way and its here to stay."
Related Internet Links
The BBC is not responsible for the content of external sites.