Chester Zoo Monsoon Forest reopens after fire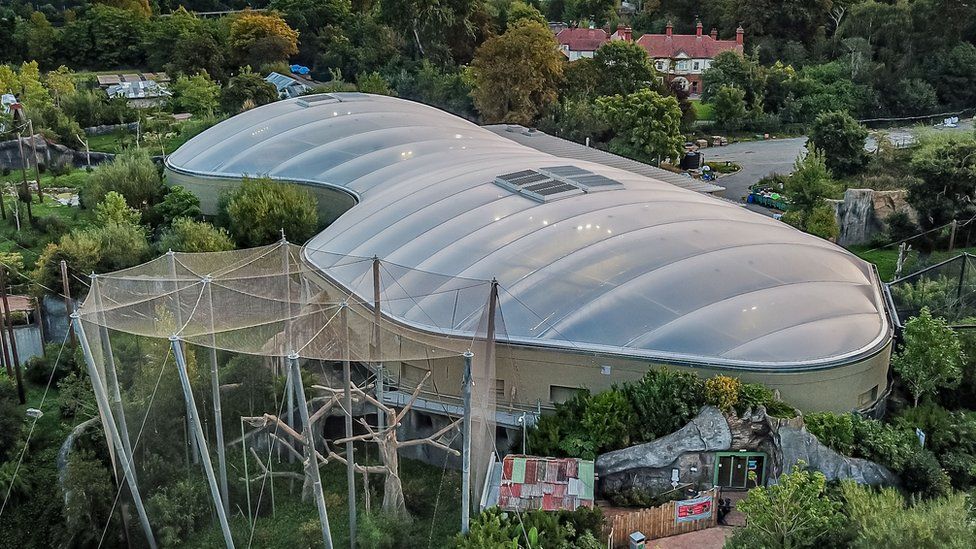 A section of the UK's most-visited zoo damaged by fire two years ago has reopened.
The blaze broke out in December 2018 at Chester Zoo's Monsoon Forest, which houses orangutans and crocodiles.
Zoo chief executive Dr Mark Pilgrim said: "Building a little bit of the Indonesian rainforest in Chester takes an enormous amount of skill and work."
Zoo staff led many of the animals to safety while firefighters tackled the blaze, which was extinguished within hours.
A fundraising page raised more than £220,000 within a week.
Dr Pilgrim said: "We had insurance to cover all of this but we raised so much money that we were able to do some really great conservation projects in South East Asia."
Speaking about the restoration, the zoo's chief operating officer Jamie Christon said: "It's been a painstaking process. Everything has had to come out of that building.
"There's over 2,600 new plants and trees back in, all the soil and subsoil had to come out, all the roof had to come off and be replaced - so it's been a long, arduous process, really."
The new Monsoon Forest area now hosts 33 animal species, including Sumatran orangutans, rhinoceros hornbills and tentacled snakes - a reptile that cannot be seen anywhere else in the UK, a zoo spokesperson said.
The building also has its own weather system, which means it can rain indoors and reach temperatures of 27C (81F) in an effort to replicate the climate of South East Asia.
Visitors must book tickets in advance and wear face coverings.
Last year, the zoo, which opened in 1931, received more than two million visitors for the first time.
Related Internet Links
The BBC is not responsible for the content of external sites.