Coronavirus: Jail criticised for 'indefensible' restrictions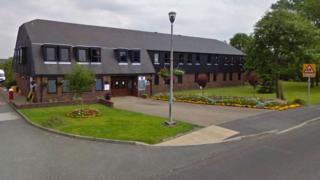 Too many restrictions were placed on inmates by staff at a prison trying to prevent the spread of coronavirus.
The decision to stop prisoners moving around HMP Thorn Cross in Cheshire "was not defensible", the report by HM Inspectorate of Prisons concluded.
The open jail was criticised after external doors to house units were locked for much of the day.
The prison said it made "no apologies" for imposing restrictions "which have helped protect the NHS and save lives".
"No prisoners have tested positive for the virus at Thorn Cross and Public Health England has already said the measures we introduced are working to limit the spread across the whole estate," the spokesperson added.
Inspectors visited the Category D prison on 9 June as part of efforts to assess the response to the Covid-19 pandemic.
Visits were also made to HMP Ford in West Sussex and HMP Sudbury in Derbyshire.
It noted that all three open prisons had taken "successful action" to protect prisoners.
'Striking variation'
But inspectors outlined a "striking variation" in the measures that prisons were taking to limit the risk of infection.
While Ford and Sudbury prisoners "continued to enjoy the freedom of an open prison", house units at Thorn Cross "were locked for much of the day with prisoners only allowed outside at their designated exercise times".
These restrictions were at odds with the ethos of an open prison, the prison watchdog said.
The BBC understands movement was restricted at Thorn Cross because the layout of the prison meant social distancing could not be maintained.
Inspectors also found variations in the way the prisons identified essential workers.
A limited number of prisoners had been accepted as essential workers at Ford and Sudbury and continued to work, the report found.
But no prisoners had been deemed as essential workers at Thorn Cross and some had lost or were at risk of losing their job.
This was described as "very concerning" by inspectors.