Liverpool John Lennon Airport: Private plane overshoots runway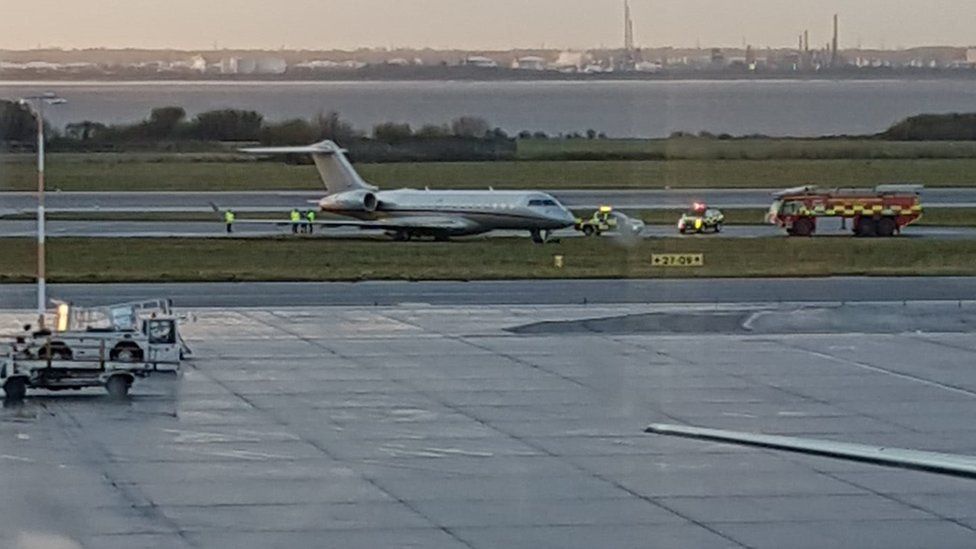 Flights were cancelled after a private plane came off the runway at Liverpool John Lennon Airport.
Four people were on board but no-one was hurt when the plane landed at about 06:00 GMT.
A source at Liverpool FC confirmed the private jet had flown from the United States and was carrying one of the club's owners, Mike Gordon.
The airport tweeted at 23:20 to say that "normal operations have now resumed".
More than 9,000 passengers had flights cancelled, delayed or transferred to Manchester Airport and many booked into hotels for the night.
Mr Gordon, who is the president of Fenway Sports Group, was on a flight from Bedford, Massachusetts, to Liverpool to attend a regular meeting at the club.
"He was not injured but would like to pass on his appreciation to the staff at Liverpool John Lennon Airport and the emergency services for their amazing work," the source said.
The airport - which has apologised to passengers - issued several updates, saying work to deal with the problems was continuing, before later confirming that normal operations had resumed.
Update at 23:15hrs - Official Airport Statement
A spokesperson for Liverpool John Lennon Airport said:

"We can confirm that normal operations have now resumed.
Once again we would like to apologise for any inconvenience caused to passengers"

— Liverpool Airport (@LPL_Airport) December 11, 2019
A specialist removal team and firefighters had been struggling all day to remove the plane's wheels, which became embedded in mud 59m (194ft) to the side of the runway.
They had been trying to dig out a track with the aim of dragging the plane out on to the runway.
Once the jet was removed, a runway inspection had to be carried out before the airport could reopen.
Liverpool Airport operations director Paul Staples earlier said the jet was too close to the landing strip to use the runway.
"We can't compromise safety," Mr Staples said, adding runways must have 75m of clear space.
The Air Accidents Investigation Branch is investigating.
A spokeswoman for VistaJet added: "We are fully co-operating with the airport and relevant authorities."
Passengers due to fly were advised to contact their airlines for further information.
Eric Henderson, from Preston, was due to travel to Amsterdam for work.
"Our flight was due to leave at 07:30. We noticed at ten to that the flight had been moved to 11:40," he said.
"There was no explanation until we looked out of the large windows on the concourse and saw all the blue flashing lights."
Steven and Kerry Grounds, from Warrington, were due to fly to Amsterdam to celebrate Kerry's 40th birthday.
"I don't think we will be going anywhere, so we're going back home," she said.
Three crew members and one passenger were on board the plane when it came off the runway after landing.
Flights arriving from Salzburg, where Liverpool FC played on Tuesday night, the Isle of Man and Dublin were diverted to Manchester, while planes from Belfast and Amsterdam were cancelled.
Liverpool FC flew back to the UK shortly after the match finished, the club has confirmed.
EasyJet earlier confirmed that six flights had been cancelled and four flights had been re-routed to Manchester.
"Customers on cancelled flights have been given the option of transferring their flight free of charge or receiving a refund," the spokesperson said.
Mike Gordon is the president of Fenway Sports Group, the owners of Liverpool FC.
He is a director of the club and is one of three board members who own more than a 10% share, alongside principal owner John Henry and chairman Tom Werner.
He is also a director of the Boston Red Sox baseball club.
Mr Gordon lives in Massachusetts with his wife and four children.
Related Internet Links
The BBC is not responsible for the content of external sites.