US Civil War steamship that sank in Liverpool gets protected status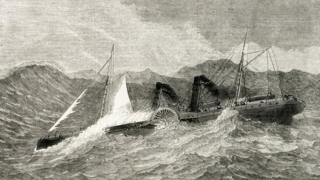 The wreckage of a Liverpool-built steamship that sank on its maiden voyage while carrying supplies for the Confederate forces during the American Civil War has been granted protection.
Paddle steamer Lelia left the city for Bermuda in January 1865, but foundered in Liverpool Bay due to stormy weather.
Forty-seven crew members died, as did seven rescuers. The ship now lies at the bottom of the bay.
Historic England said the wreck was "significant as historical evidence".
The ship, which was built at Millers shipyard in Toxteth, was clandestinely ordered to help slave-owning Confederate forces in the southern states of the US, fighting the Unionist forces in the North.
"The Lelia is one of a small group of British ships involved in British complicity in running guns and munitions to the Confederates," said Duncan Wilson, chief executive of Historic England.
"Though the UK remained officially neutral throughout the American Civil War, the Lelia comprises evidence of the British financing of blockade runners that sent munitions and luxuries to Confederate ports in return for cotton and tobacco."
The shipwreck was located after a bell from the Lelia was discovered by a diver in the early 1990s.
The ship has been granted protection by the Department for Digital, Culture, Media and Sport on the advice of Historic England.
Recreational divers can still descend to the site but they are not allowed to remove anything from the wreck.
The partially buried remains lie 15m (50ft) below the surface, 10 miles north-west of Hilbre Point on the Wirral.
Heritage minister Rebecca Pow said protecting the site "helps us to preserve an important story about Britain's role in the American Civil War".
---
Supplying the Confederacy
The Confederacy had to look to Europe for arms and supplies, as the north had more manufacturing industry. Liverpool was the obvious choice because of strong links forged during the cotton trade.
The Confederacy had no navy or ships to beat the northern blockade of southern ports and looked to Liverpool shipyards to secretly build a fleet of blockade-runners and naval cruisers.
James Dunwoody Bulloch, Confederate naval officer, arrived in Liverpool in June 1861 with orders to obtain six steam vessels suitable for use as commerce destroyers against the Union, and to purchase and transport arms.
Liverpool based merchants and foreign bankers to the Confederacy Fraser, Trenholm and Co helped provide funds for the construction of the CSS Florida, the first foreign built commerce raider.
The ship was built by William C Miller and Sons of Toxteth, who also built the Leila.
Bulloch's second contract was with Laird's in Birkenhead who built the CSS Alabama, launched in 1862.
Another Liverpool shipyard, Jones, Quiggin and Co, built many ships for the Confederacy including five blockade runners, the first one being the Banshee, which became the first steel ship to cross the Atlantic in 1863.
Source: Merseyside Maritime Museum